Product Strategy Programme
How can you decide the order in which your products or features should be built? What makes a good product strategy and how do you create one? And how do product responsibilities change in a growing startup?
In the product strategy programme, product experts will guide you through a one day workshop, creating your own product strategy and anchoring it within your business. In that context we also discuss which processes are needed for a sustainable implementation of your product strategy and how to build a product team.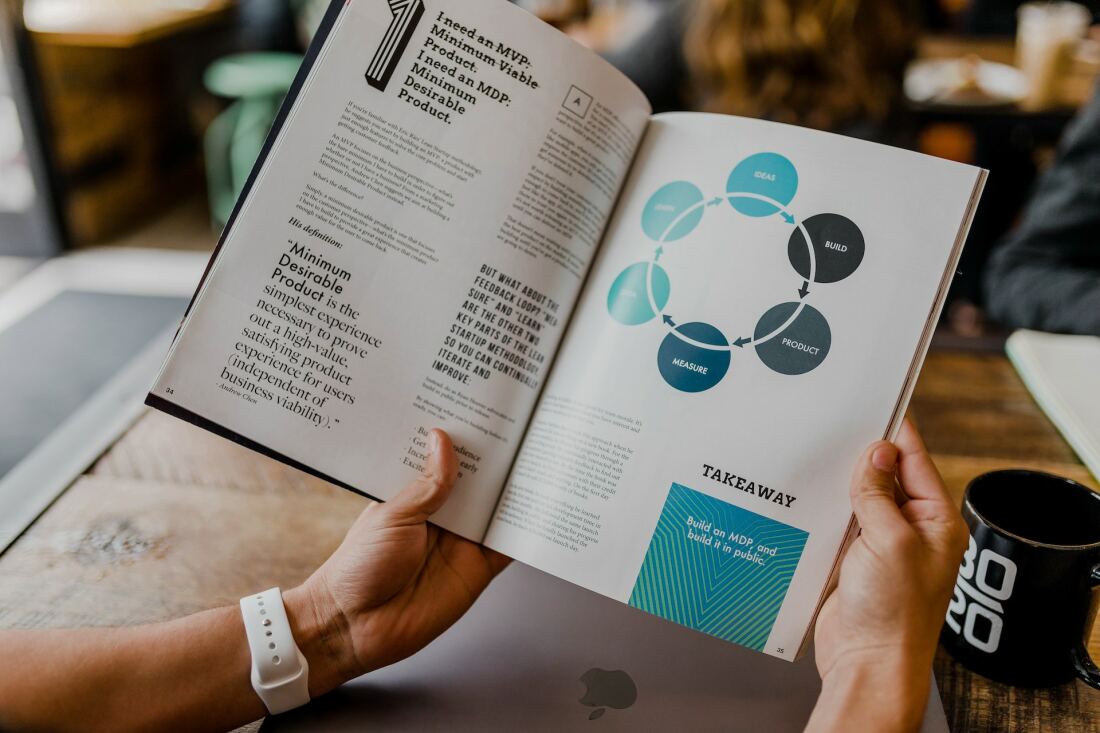 One module is about product vision, strategy and roadmap and why you need all three in product development. You will learn the difference between discovery ("deciding what to build") and delivery ("building it") and how this relates to the "Lean Start-up" method. You will also learn how to present the problems and solutions that are relevant to your start-up in a structured way and how to use this to guide your discovery.
You will create an inspiring and concise vision for your product. Personas, user problems, the benefits of your product for your business and how you are different from the competition are all part of your vision.
It is also about the product strategy itself. There is no one right way to formulate a product strategy. But we'll show you different ways and help you figure out which ones might work for your start-up.
You will learn methods to prioritise specific products or product features. We'll discuss how to deal with urgent feature requests, that come in after the roadmap planning has been finalized. Finally, we talk about how you can actually measure whether you are achieving your goals.
You will learn how you can anchor the product strategy in your start-up. What product roles are there and what responsibilities can and should you hand over to an employee as your start-up grows? What processes are necessary to keep your product strategy up to date so that it really benefits you in your daily work?
In-depth knowledge of product development and strategy in just one day
Develop your own product strategy
Learn from experienced product managers and product coaches
Exchange with other start-ups through the peer2peer approach
You ask yourself the question "How can we decide which products or features we should build first?".
You have little or no experience in product management.
You want or need to take on product tasks and decisions in your start-up.
Your start-up is in the seed or series A phase.
You communicate confidently in English.
If these points apply to you, this programme is perfect for you. If you are not sure, whether this programme is a good fit for you, please contact us.
Kostja Hausdörffer
Start-up helper with a focus on start-up consulting
+49 (0) 421 9600 494
Rebekka Tegtmeier
Start-up helper with a focus on start-up consulting
+49 (0) 421 9600 446
Hanna Rademaker
Start-up helper with a focus on start-up consulting
+49 (0) 421 9600 380
Success Stories
Startups
25 September 2023
How start-ups set themselves up for financial security
Financial problems have brought some start-ups to an early end. No wonder, given the abundance of issues that start-up founders have to deal with. After all, a good idea is not enough for success. The topic of finances is a constant companion along the way and can pose major challenges. We have summarised some information and tips for you.
Read the tips
Startups
1 September 2023
How start-ups achieve product market fit
Great business idea, investment secured, great team and still failed? Several factors are important for the success of a start-up. In this article, we look at the product market fit of your business idea and give tips on how to avoid the most common mistakes in your start-up.
See our tips
Startups
3 August 2023
Focus on your product development
Even the best product is no use: If customers don't understand it, find it appealing or can't use it, your start-up is doomed to failure. Good news: You can work on your product strategy and development. We'll show you how it works.
Read the tipps