21 July 2023
-
Andreas Schack
Meet outside the box
Startups
More space for ideas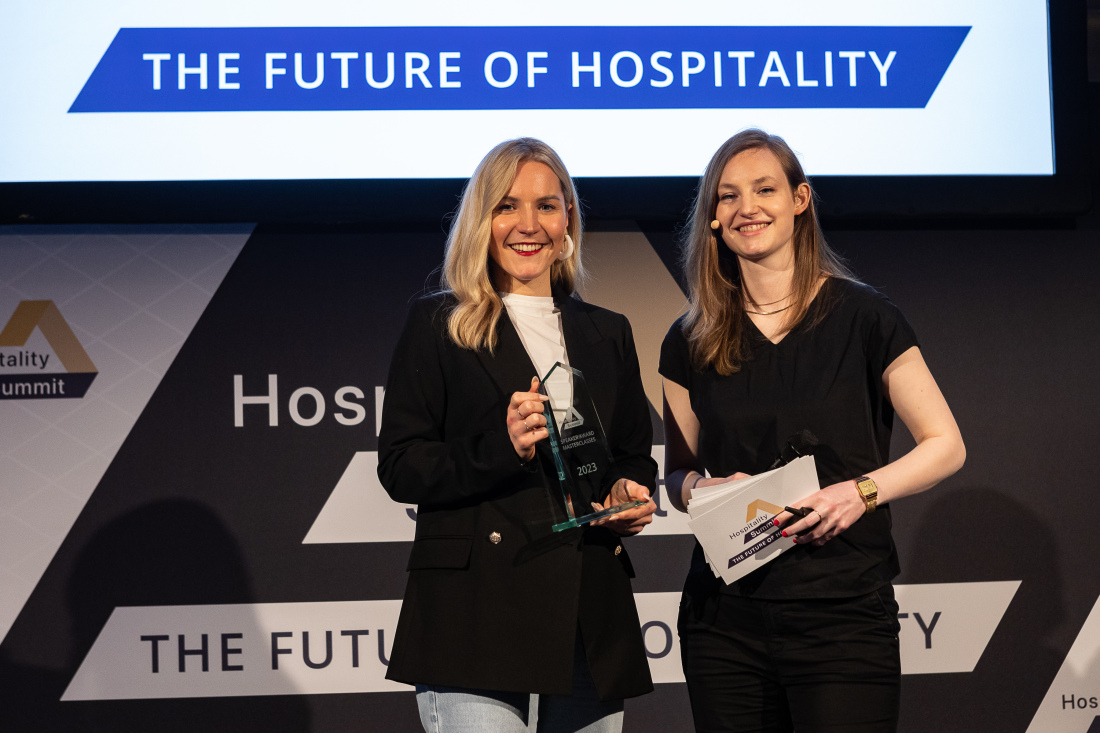 The world of work is changing. New work and home office are no longer just buzzwords, but already reality in many companies. But where freedom of workplace choice wins, personal contacts are often lost. This is where meetreet brings people together again, in special accommodation, workstations and team offsites for creative meetings and team-building incentives.

'We create the opportunity for companies to get away from everyday distractions with their employees and provide the spaces where they can focus on their team building and development goals in an inspiring environment,' is how Saskia Klinder (CEO) describes the mission of the Bremen-based start-up.

The 31-year-old has already gained over twelve years of experience in the hospitality and event industry. She completed her training as a hotel professional at the Maritim Hotel in Bremen as the best in her class in a nationwide comparison. And that was not to be the last award for the hospitality expert. In 2019, she won the silver medal for 'Best New Conference Launch for up to 400 People'. And as recently as 2023, she was awarded the first prize as best speaker at the 'Hospitality Summit 2023' in Hamburg (to the YouTube video). With her co-founders Nico Serapins (Head of Marketing and Sales) and Paul Stelzer (Head of Product), she launched the idea for meetreet 2022. Together, the trio has been revolutionising the hospitality industry ever since.

'Our offer goes far beyond arranging accommodation,' says the internationally experienced hotel and event manager, explaining meetreet's holistic approach. 'We open the doors to diverse event formats at inspiring locations for companies and organisations in an uncomplicated and efficient way. Our selection of now more than 300 locations is unparalleled, and the international as well as regional offer can be fully customised through a variety of options. With our platform, we create unforgettable experiences for our customers,' she describes the special service.
When our hosts and our guests are delighted, it fills us with joy.
In the first few months, meetreet has already facilitated around 100 events in various destinations for its customers. 'We are very pleased that our offer has been so well received, by corporations as well as small and medium-sized businesses, internationally and regionally. Now the time has come for us to grow,' the founder describes the next milestone. 'We need capital and would like to expand our team with motivated people from the hotel and event industry,' she has the next goal in mind.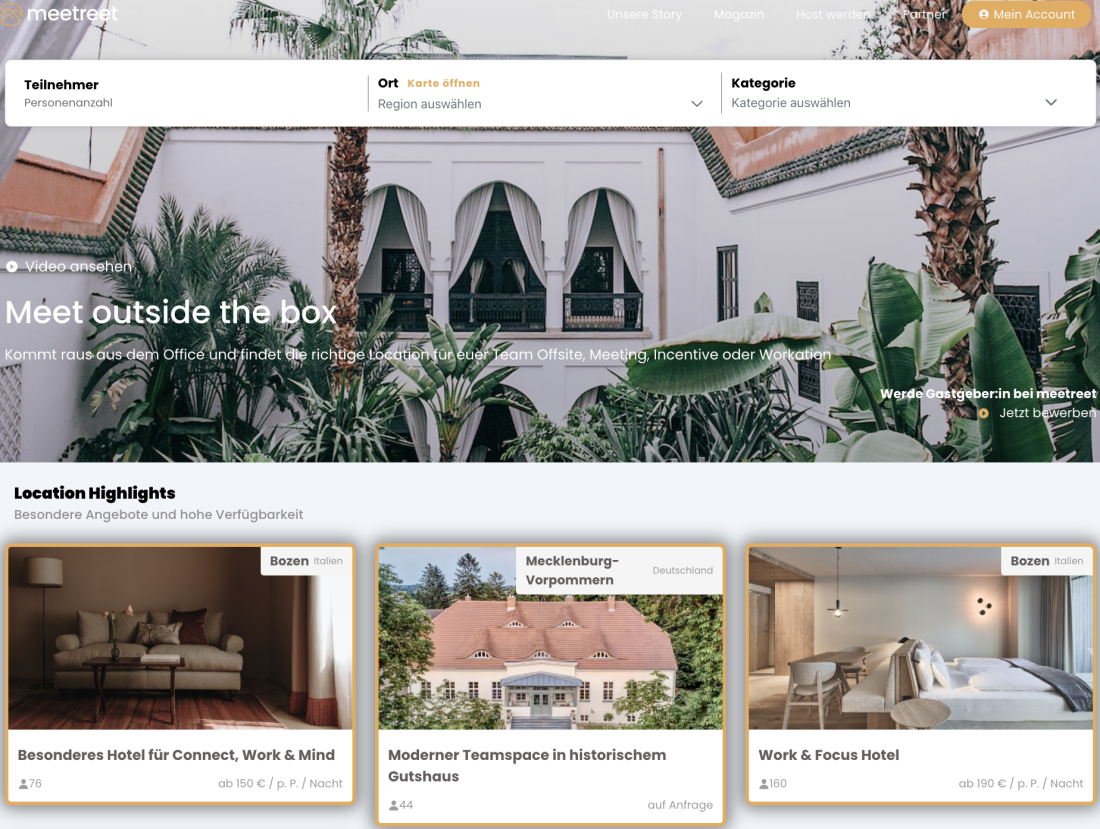 Investor Readiness Programme
Meetreet receives support for this step from Starthaus Bremen & Bremerhaven. With the Investor Readiness Programme, it supports selected start-ups in their preparations for their search for investors. 'We are now ready for the first meeting with potential investors,' Saskia Klinder reports on her experience with the IR programme. The programme is about learning: How do I write a pitch deck? How do I write a financial plan? How do I present my start-up and how do I negotiate with investors? 'All these topics are taught by experienced coaches. And the regular meetings force all participants to actually do their homework,' she says. In addition, the close exchange with other founding teams in the IR programme is very motivating.
Start-up in Bremen
The Hamburg native is also very happy with the Bremen location. 'We founded meetreet here and we're going to stay here,' she is certain. 'Bremen is a special place with interesting people and great companies,' she explains. People know each other and support each other in the local start-up community, on a personal and binding level that can hardly be found elsewhere. Numerous opportunities for meetings and pitches enabled quick contact with people who wanted the same thing: to make a difference! Special programmes for female founders completed the offer. With Starthaus Women – she starts, the Starthaus supports women in founding and building their businesses.
Unique locations
Saskia Klinder finds it difficult to answer the question of which is her favourite location in meetreet's current range. 'I select each location personally, and only if it overwhelms me with its décor, design or the personality of the hosts do I include it in our catalogue,' she explains. She therefore advises her clients to think carefully in advance about the setting they prefer for their team event.
'For nature lovers, I recommend the 6Oaks in Lower Saxony, only 35 minutes by car from Bremen. Those who prefer to hold their meeting by the lake will find peace and creativity in the Matador Lounge. Austria offers breathtaking accommodation for fans of exceptional hospitality in the mountains. And those looking for the sun can find inspiration at the Curolla in Mallorca or the San Canzian in Croatia,' she names just a few examples of unique accommodation.
More information about the up-and-coming Bremen-based start-up and the locations mentioned can be found on the company's website: www.meetreet.com
Do you want to start a company, launch your business safely or grow further? Then send us an email at info@starthaus-bremen.de or call us at +49 (0)421 9600 372 if you have any questions about your start-up (idea). We have the answers.
Success Stories
Startups
25 September 2023
How start-ups set themselves up for financial security
Financial problems have brought some start-ups to an early end. No wonder, given the abundance of issues that start-up founders have to deal with. After all, a good idea is not enough for success. The topic of finances is a constant companion along the way and can pose major challenges. We have summarised some information and tips for you.
Read the tips
Startups
1 September 2023
How start-ups achieve product market fit
Great business idea, investment secured, great team and still failed? Several factors are important for the success of a start-up. In this article, we look at the product market fit of your business idea and give tips on how to avoid the most common mistakes in your start-up.
See our tips
Startups
3 August 2023
Focus on your product development
Even the best product is no use: If customers don't understand it, find it appealing or can't use it, your start-up is doomed to failure. Good news: You can work on your product strategy and development. We'll show you how it works.
Read the tipps