24 February 2023
-
Nicola Martin
Do your thing – with the Starthaus
Starthaus
Start up and grow in Bremen and Bremerhaven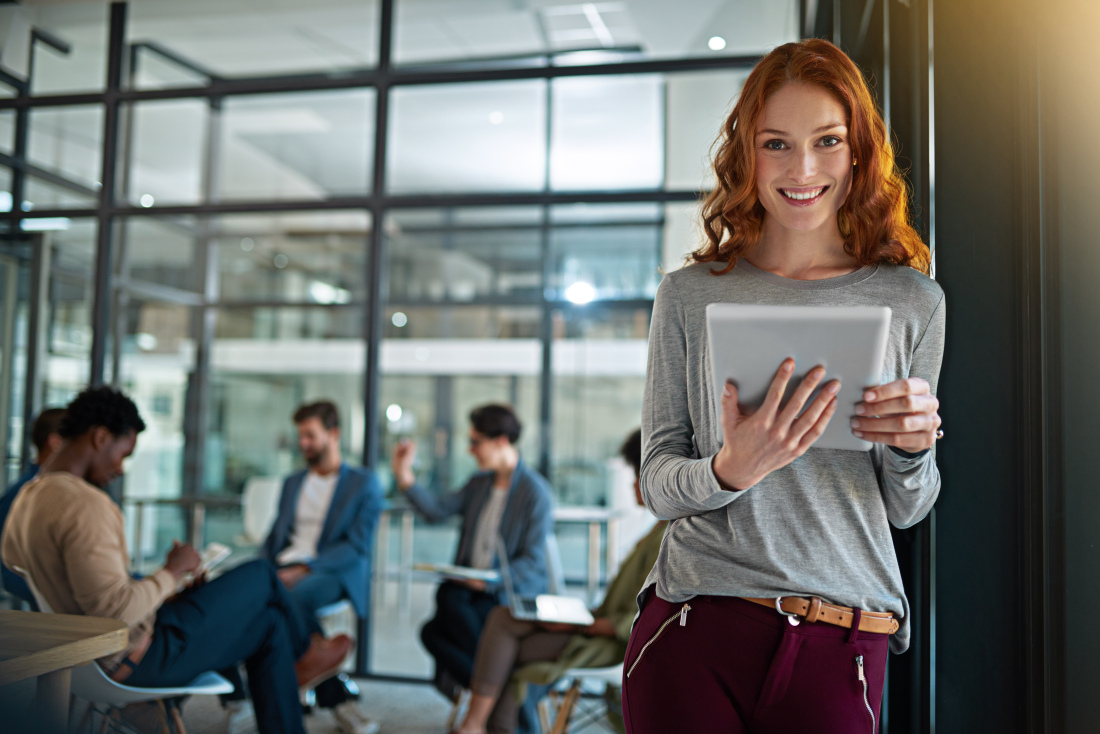 It all starts with the big "aha" moment: All it takes is one good idea and the dream of self-employment is born. However, at this point a huge wave of unanswered questions also piles up for those interested in starting a business.  In this article, the Starthaus Bremen & Bremerhaven explains how it supports start-ups and young companies in the state of Bremen and thus strengthens the local start-up ecosystem at the same time.
Hello from the Starthaus! Start-up knowledge from A to Z
In addition to a large portion of courage and conviction, the right skills, information and networks are always decisive for a successful start-up. How do I get from my start-up idea to self-employment? How do I market my business model? What forms of financing are possible? How do I attract investors? Especially at the beginning, there are many questions about what is on the agenda for founders and when.

This is where the Starthaus comes into play - the central contact point for start-up knowledge in Bremen and Bremerhaven. It is a hub where all the topics that concern founders, start-ups and young companies come together and are passed on as bundled know-how. In other words: the Starthaus offers local start-up assistance that gives founders the necessary tailwind with creative solutions. Behind all the activities of the Starthaus there is always a clear mission: to make young companies and start-up ideas from the federal state of Bremen fit for a successful future through new impulses. To this end, the Starthaus offers qualified start-up support - from idea generation through the scaling phase to initial growth.
The portfolio of services offered by the Starthaus is deliberately wide-ranging: from individual counselling to coaching and financing to interactive workshops, there are no limits to the possibilities. The focus is always on a hands-on mentality - after all, what use are statements that bring practically no real added value to the start-up process?
In the state of Bremen, the Starthaus stands for the following keywords that support founders, start-ups and young companies in their development:
Start-up and growth consulting
Qualification programmes for various focus groups
Financing
Events and workshops
Networking
By the way: The support of the Starthaus also applies to business successions – i.e. when founders decide to continue an existing business. After all, entrepreneurship has different faces.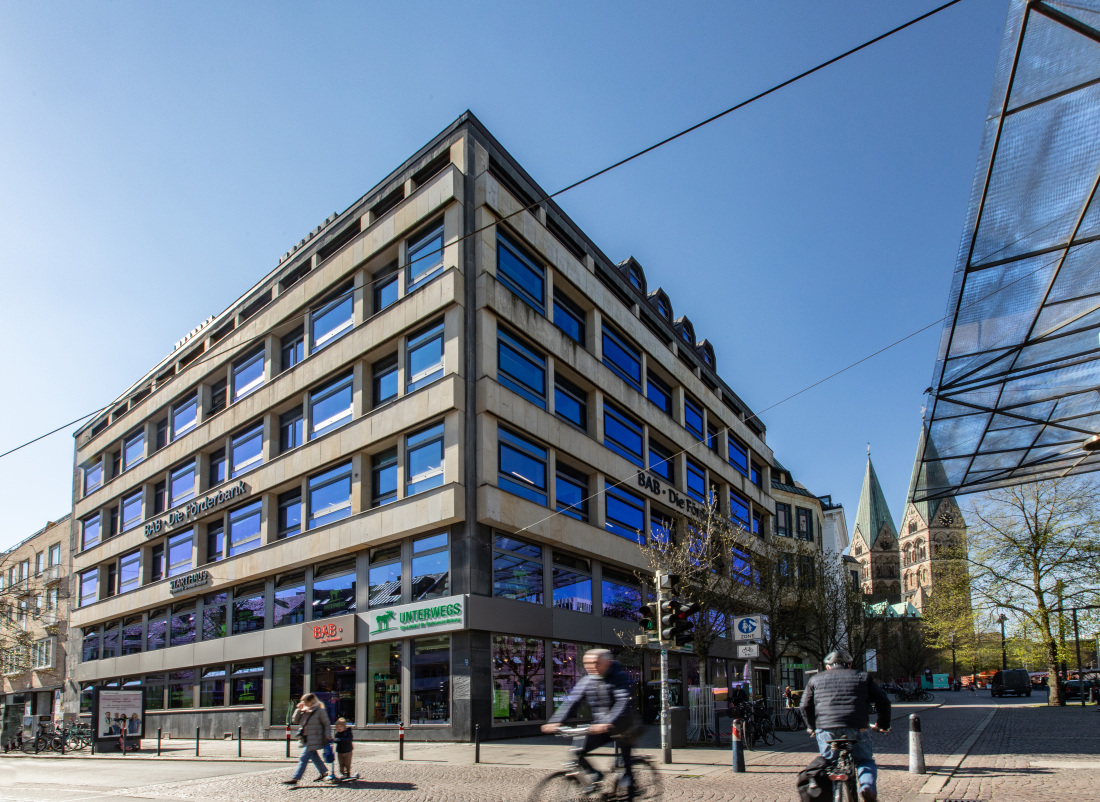 What's special about the Starthaus
All well and good, but how does the Starthaus Bremen & Bremerhaven differ from other initiatives to promote start-ups, incubators and accelerators? The answer sounds simple at first, but it makes life much easier for founders and young companies: the Starthaus is a specialised segment of BAB – Die Förderbank and thus part of the funding institution of the state of Bremen.
A classic bottleneck in the start-up scene is regularly the issue of financing. Banks refuse loans, there are not enough investors, financial needs remain uncovered – a real vicious circle. In case of doubt, the only options left from the large catalogue of financing models are bootstrapping ( no external financing, but a limited budget, tight schedule and scarce resources) and family and friends. In the end, however, every start-up stands and falls with the issue of capital.
As a segment of the BAB, the Starthaus fulfils a dual function: Its start-up helpers can not only provide more clarity around figures through advice, but also offer funding and financing instruments at the same time. A one-stop agency with two solutions – that's how efficient support from a single source works.
Another (not insignificant) advantage: As a funding bank in the federal state of Bremen, BAB pursues a social mission - namely to secure and develop a sustainable business location. This includes, among other things, the promotion of local start-ups. For start-ups and young companies, this means in concrete terms that low-interest loans can be granted in some cases even if the house bank cannot offer support. But flexible options such as crowdfunding and equity capital are also possible. In the end, both sides can profit: the respective company and the locations Bremen and Bremerhaven.
Consulting: Everything from a single source
People with the most diverse backgrounds, motives and goals are behind start-ups. Employees who want to realise their dream of self-employment on the side, students with a hunger to start up or jobseekers who want to take their new career start into their own hands: Start-up ideas with potential lie dormant in every part of society. Each starting situation is individual and deserves an honest discussion of future prospects. This is precisely the task fulfilled by the Starthaus in the state of Bremen.
Needs-oriented start-up counselling from the idea to the growth phase covers a wide range of topics: from risk and opportunity analysis of the business model to the entire business set-up to the creation of a personal roadmap. In addition, the start helpers are also a source of qualified input on available funding and financing opportunities. In addition, there is the connection to the Starthaus initiative, which has already resulted in many valuable contacts to the Bremen start-up ecosystem in the past.

All consultations at the Starthaus follow a clear philosophy: the exchange is always confidential and from a neutral point of view. Feedback is given in a clear and sincere manner. Those interested in setting up a business do not have to expect any hidden costs: The counselling is free of charge, as the Starthaus is funded by the European Regional Development Fund (ERDF).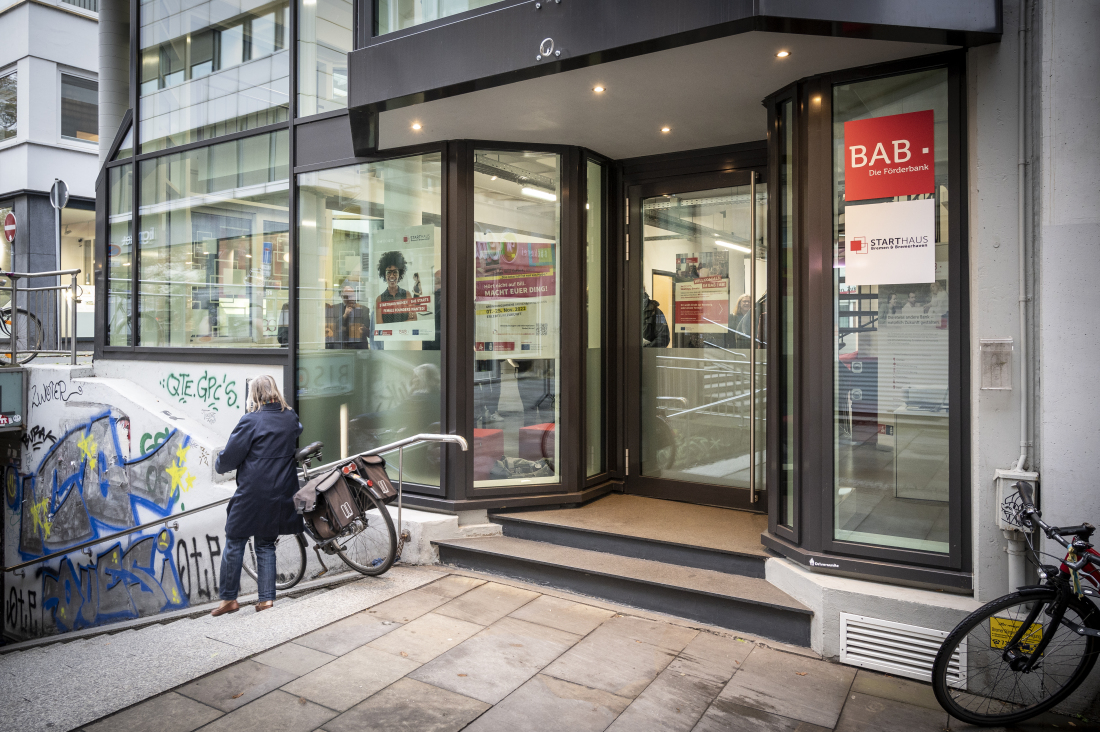 Programmes for (prospective) founders, start-ups and young companies
With these programmes, the Starthaus provides targeted support for founders with different backgrounds:
Events and Networking: Think global, act local!
Contacts only hurt if you don't have them - and don't use them. This insight is also proven time and again in the Starthaus Bremen & Bremerhaven and is therefore highly valued. Local networks such as the Starthaus initiative in the state of Bremen regularly generate impulses that bring about real milestones in the development of start-ups and their companies.
There are various ways to get in touch with network partners in the Starthaus: In addition to the classic direct placement, events and workshops with an uncomplicated setting are a good way to make contacts. That's why the Starthaus presents a colourful mix of free events throughout the year that combine two essential building blocks for start-ups: professional inspiration and networking within the start-up ecosystem. The events are aimed at anyone in the state of Bremen who is enthusiastic about setting up a business - those who are planning to become self-employed in the future or who have already taken the plunge. From online marketing via taxes and accounting to bank interview training: practical start-up knowledge is imparted here so that a successful start can be made. It's worth taking a look at the Starthaus event calendar.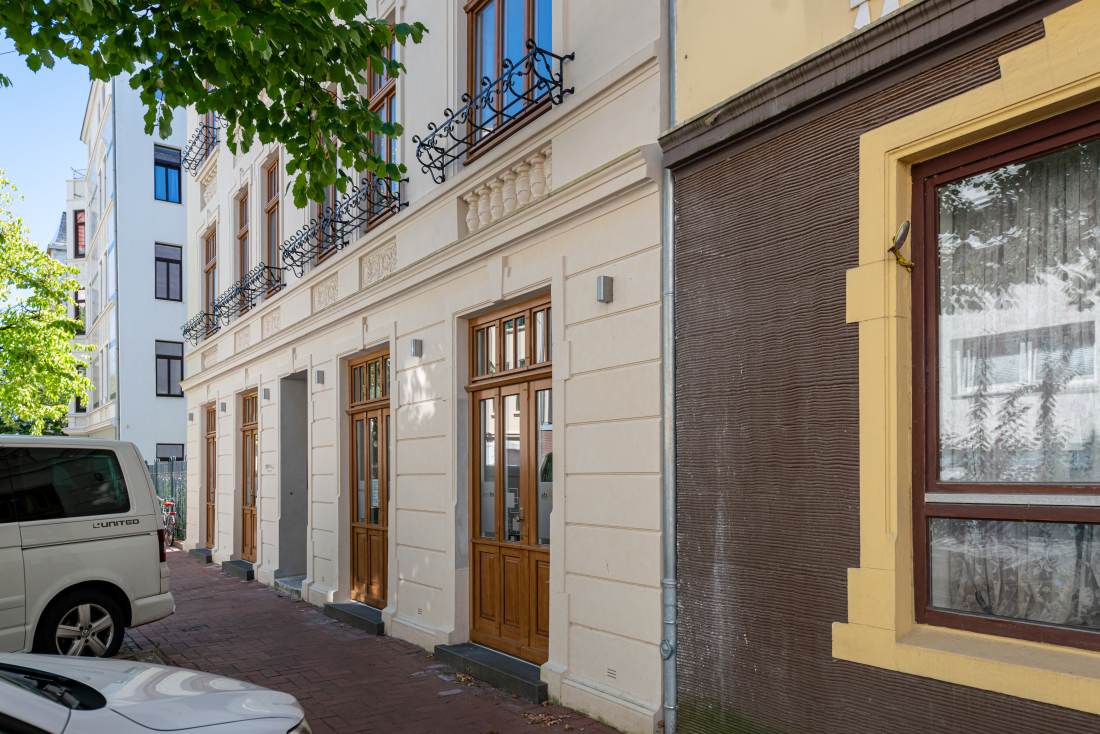 Let's talk about money: Funding with the Starthaus
Consultancy funding
When setting up a business, the devil is often in the detail: making the right decisions for the future of your own company can quickly become a challenge without a neutral overview. A professional management consultancy can therefore be a useful support for founders in setting the course - but a considerable investment in the short term. The Starthaus consulting subsidy rethinks the financing options for consulting - and brings light into the darkness: Specialised start-up helpers are available to start-ups and SMEs in their search for a suitable offer in the funding jungle. Ideally, the end result is a match and a subsidy for the respective consulting costs.
Loans
When the buzzword "start-up loan" is mentioned, there are basically two different options available at Starthaus Bremen & Bremerhaven. The ERP-Bremen Funding Credit SME and the BAB Mikrokredit. A brief overview of what the state of Bremen can offer start-ups and young companies in terms of financing:
Starthaus Mikrokredit
Maximum amount: 125,000 euros
Suitable for: Start-ups, small entrepreneurs and freelancers
Area of application: flexible, for example, concrete business start-up plans and smaller investments by young companies.
ERP-Bremen funding credit SME
Maximum amount: 5 million euros
Suitable for: Start-ups and young companies (maximum age 5 years)
Field of application: medium- to long-term investments, for example in working capital
The special feature of Starthaus financing can be summed up relatively simply: It fills an existing gap in the midst of the broad range of commercial banks. Low equity ratios or a generally weaker credit rating do not automatically mean the end of a loan. The background is that Starthaus, as a segment of BAB - the funding bank, acts in the public interest and can therefore make funds available to founders at favourable conditions.
In this constellation, Starthaus changes roles and takes on a different task together with BAB - The Funding Bank: It acts as an investor for start-ups and young companies from the federal state of Bremen. The Initial Fund and ERDF Investment Fund make it possible:
The Initial Fund is tailored in particular to start-ups that simultaneously have a promising future concept and closed overall financing. The programme offers open or silent participations of up to 750,000 euros.
The ERDF Investment Fund, on the other hand, offers opportunities for open investments and supplementary subordinated loans for start-ups with big plans. Product development, market launch or growth - all crucial investments must first be counter-financed. In principle, up to 400,000 euros per company can be financed by the ERDF Investment Fund. A maximum amount of 600,000 euros applies to companies in the C-assisted area. For innovative enterprises, doubled maximum amounts of 800,000 euros or 1.2 million euros can apply.
Crowdfunding and Starthaus MikroCrowd
Crowdfunding is becoming increasingly popular as a method of financing start-ups - and for good reason: Not only can crowdfunding be used to raise the money needed to turn a project or business idea into reality. At the same time, close ties are forged with the supporters and the foundation of the brand is automatically laid - a win-win scenario. For this programme, the Starthaus cooperates with the German crowdfunding platform Startnext.
In this context, the Starthaus supports crowdfunding founders in the federal state of Bremen in 'building bridges' between trend-setting idea and implementation. Another advantage: Cofunding. Project starters can apply for suitable co-funding campaigns, such as the Social Mission Possible campaign, and thus match the financial support from supporters with additional co-funding under certain conditions.
By the way: Starthaus Crowdfunding can also be combined with the Starthaus Mikrokredit: In the form of the MikroCrowd Bremen. With this financing model, which is applied for in advance at Starthaus, founders benefit from the best of both worlds when it comes to start-up capital:  The natural community building of crowdfunding and a loan at favourable interest rates. The MikroCrowd process follows a simple logic: if the crowdfunding campaign reaches a predefined funding target and is thus successful, start-ups can secure an agreed loan amount of up to 10,000 euros.
Interested in founding a company? Feel free to send us an email at info@starthaus-bremen.de or call us at +49 (0)421 9600 372 if you have any questions about your start-up (idea). We have the answers.